George Antone Workshop: Invest like the Top 1%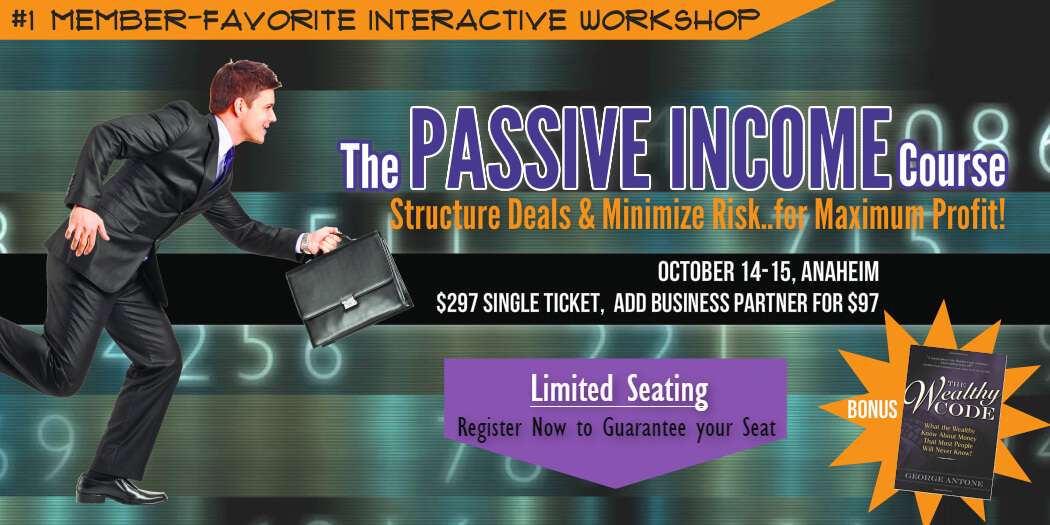 STRUCTURE DEALS FOR PASSIVE INCOME LIKE THE TOP 1% OF INVESTORS ON THE PLANET!
If you want to finally build confidence when raising capital, structuring deals, minimizing financial risk, and gaining access to the secret tools the top 1% of investors use in putting passive income deals together; then this LIVE course is for YOU.
Who Is This For? New and experienced Investors looking for passive income.
What Will You Learn?
• Structure deals like the best of the best investors
• Maximize return and more importantly minimize financial risk
• Use these skills for ANY income-producing asset; not just real estate
• Why most investors lost their shirts in 2008; and how you would NEVER make those mistakes
• How to measure and control financial risk
• How to present deals to your money partners and blow their minds with your sophistication
• The exact step-by-step blueprint to capital structures for income-producing assets
What Others Are Saying?
This course was one of the nation's most popular LIVE and INTERACTIVE events of 2016.
This year we updated the course and took it to new heights!
"This course should be a requirement for any investor – no matter what the investment vehicle. Being able to analyze any deal for risk and return will provide an investor the knowledge needed to secure their deal as well as find all the funding they need. This class provides the education in an interactive, hands-on environment."
Darcy Winterton, Real Estate Investor
Course Developer:
George Antone, author of the best-selling books The Wealthy Code, The Banker's Code, and TheDebt Millionaire, is a sought-after expert and speaker. He is also the founder of the world's largest network of private money lenders.
SEATING IS VERY LIMITED! No same-day registrations